Suzzallo Library, University of Washington
These photos were taken by Dr. Robert Christian, Pastor of Heritage Congregational Church, Spokane, WA, on October 1, 2007.
During the late winter and early spring of 1924, sculptor Allan Clark created 18 three-quarter life size statues for placement on the exterior of the new Suzzallo Library being constructed on the Seattle campus of the University of Washington. Those statues were sculpted and fired at the terra cotta works of the Washington Brick, Lime, and Sewer Pipe Company in Clayton, Washington. Below are photos of 14 of those terra cotta statues. For the complete story of how these wonderful artifacts came into being, check the website's menu for this album's companion page, "Creating the Suzzallo Statues".


Dante Alighieri 1265 -- 1321

---

Plato (Aristocles) 447 -- 327 BC

---

Justinian 483 - 565

---

Galileo Galilei 1564 --- 1642

---

Herodotus 484 --- 425 BC

---

Homer 8th Century BC

---

L. van Beethoven 1770 --- 1827

---

This figure represents "Thought"

---

While representative of Allan Clark's craftsmanship, these three statues had nothing to do with Clayton. This figure represents " Mastery."

---

The History of the Terra Cotta is facinating and you are gazing at one of the most intricate ever moulded at the Clayton Plant. The only available photograph taken of the interior by a professional photographer from the University of Washington. Our Society was granted permission by Nicolette Bromberg, Curator for the U of W overseeing Copyright and legal procedures. Without her assistance this masterful picture would not have been possible. Please note, This photo is protected by Copyright and is forbidden by law to be downloaded. Jurisdiction of U of W. No exceptions. Uniiversity Libraries Special Collections Z679.2U8541.521.392 Plates 1 & 2

---

Benjamin Franklin 1706 -- 1790

---

William Shakespeare 1564 -- 1616

---

Leonardo da Vinci 1452 --- 1519

---

Johanna W. Goethe 1749 --- 1832

---

Adam Smith 1723 --- 1790

---

J. Gutenberg 1398 --- 1468

---

Sir Isaac Newton 1643 --- 1727

---

These are Allan Clark's work but were commissioned and finished at least a year prior to the Clayton Terra Cotta statues. These were made of "cast stone." A material man made by unknown measures. They were cast about 1926 and have retained a certain pleasant gleam to this day. The statues are allegorical but were modeled by real people in Allan Clark's studio in Tacoma, WA. This figure represents "Inspiration."

---

The Suzzallo Library is renowned as one of the top architectural designs in the world. This is an overall view of the main entrance. Photos by Hector Auffant, floral designer, Seattlle, WA.

---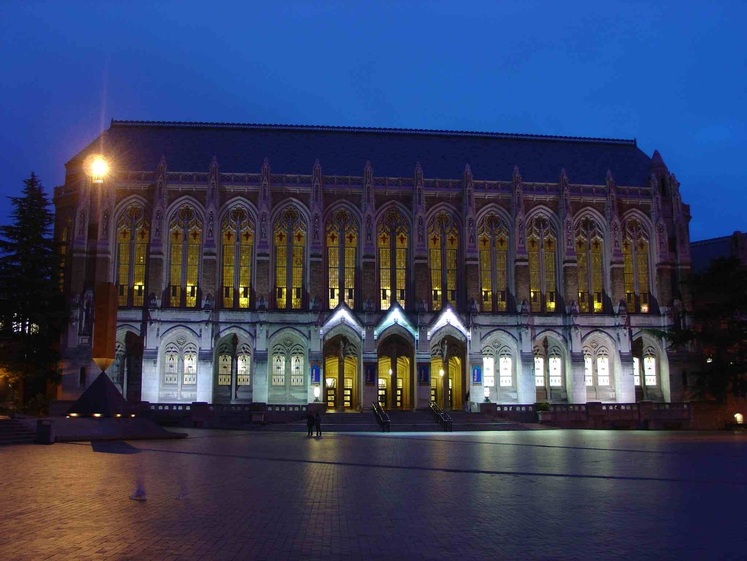 A magnificent picture of a magnificent structure. The source of this photo is rbaggio10 on Webshots. It is hoped that the Photographer will contact the Webmaster identified at bottom of the menu page. In doing so we will give proper credit or, follow the desire of the Photographer.
---