About Our Publications
The "Publications" wing of the Society has been charged with the creation and publication of articles detailing the history of our region.

This would include any material deserving of the title 'historic', including geologic and natural history.
We currently have four methods of publishing our material.

We occasionally have articles appear in the Deer Park Tribune, our local newspaper.

We also publish on this website.

W

e are producing a newletter - the Mortarboard - in both hardcopy and PDF formats, and a series of 48 page booklets titled "Reports to the Clayton/Deer Park Historical Society".
Our booklets, in a physical sense, are strictly a low-tech production … reproduced in black and white on copy machines, and center stapled and folded on the kitchen table.

On the other hand, layout and template production is carried out on the computer, with a final results light-years beyond the typewriter-stencil and chemical mimeograph system we grew up with.
These booklets are produced at as low a cost as possible in order to keep the purchase price as low as possible. Booklets are available a several venues within the community, but can also be ordered through 'The Heritage Network Bookstore'. A link to the bookstore is posted on our 'Internet Links' page. Order information contact Bill Sebright at email sebrightba@gmail.com. Price is $5.00 each booklet.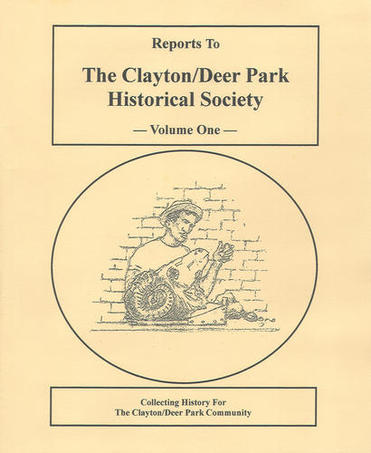 Booklet number one began as an experiment to see if the community was interested in a local history publication.

Included are two interviews with long time residents … recalling significant events from their lives.

There's a letter recounting a man and horse's near disastrous overnight journey from Clayton to Deer Park during a blizzard … deep in the legendary winter of 1923-'24.

Two articles detail bits of the inner workings of the old Clayton brick plant.

And there is much, much more
Volume 1: Copyright 2005 - Clayton/Deer Park Historical Society
---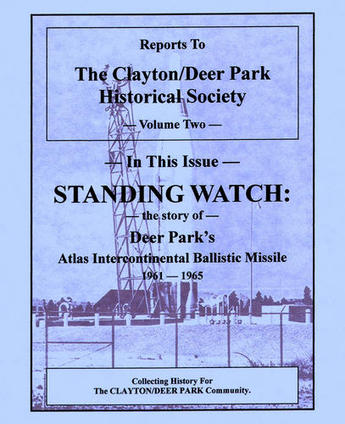 From 1961 to 1965, the most advanced weapon in America's nuclear arsenal … the Atlas Intercontinental Ballistic Missile … lay at ready in a small, fortified military bunker buried beneath a patch of land several miles east of the town of Deer Park.

This is the story of that site, that weapon, and the men who stood watch over both.
This story follows events during the frantic days following the Soviet Union's launch of Sputnik … an act that shattered the American myth of technological superiority, and broke any remaining threads of complacency regarding American nuclear vulnerability.

It highlights Deer Park's first brush with the government's ballistic missile program, and follows the selection and construction of the Deer Park site.
Drawing from once classified documents, and the recollections of launch and maintenance crews, it details the routine of working with these large, complex liquid fuel rockets.

It takes you inside the bunkers of Fairchild Air Force Base's 567th Strategic Missile Squadron … to stand watch with the crews.

And it details the thoughts and actions of those crews during the Cuban Missile Crisis … the closest brush with nuclear annihilation the world has ever experienced.
And then you'll learn how powerful these weapons were, as we detonate one above the Deer Park bunker … watching as the flash and blast rolls over the local community.
If you've ever wondered what originally lay at the business end of Missile Site Road, this is your book.
Volume 2: Copyright 2006 - Clayton/Deer Park Historical Society
---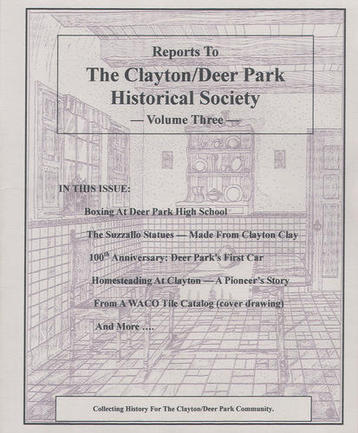 This issue contains a recollection of homesteading in the Clayton area at the very beginning of the 20th century.

Written by Herman Johnson, in a letter intended for his descendants, it's a absolutely captivating account of carving a home out of undeveloped forestland.
Mattie Canfield was a unique character in the Williams Valley area in the 1940's and 50's.

Claiming to be half Native American, and nephew of Geronimo, Mattie spun many a tale of his adventures … such as his encounter with the 7th Cavalry at the Little Big Horn.

A few of those stories are included here.
In 1924, sculptor Allan Clark created eighteen ¾ life size terra cotta statues at the Clayton terra cotta factory for placement on the exterior of the new Suzzallo library building at the University of Washington in Seattle.

Drawn from newspaper accounts and the archives of the Suzzallo Library, here is the story … and photos of all eighteen statues.
From 1945 to '49, Robert Clouse was a boxer with the Deer Park High School boxing team … a State Championship wining team.

Here is his story.
Ever wonder what the first automobile owned by a Deer Park resident looked like?

Drawn from an article found in the Deer Park Union, and illustrations found in an original automotive sales brochure, here's a look back … 100 years.
What's an all-fuel tractor?

In the 1920's and '30's, just the latest thing. Find out more in this article about a McCormick-Deering iron wheel tractor.
All this and more in the third volume of the Society's journal.
Volume 3: Copyright 2007 - Clayton/Deer Park Historical Society
---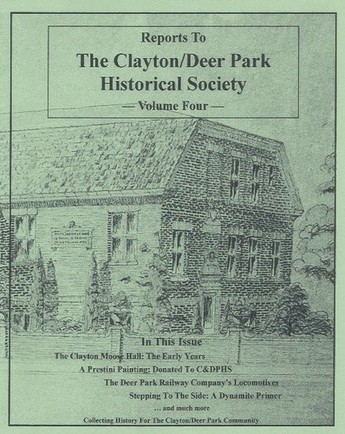 The fourth book in our series contains some unique stories.

One is a history of two of the families that homesteaded Wild Rose Prairie in the late 1800's.

Pete Coffin, a descendant of those families, wrote this article.

Another article details the use of dynamite in clearing land.

A third article combines three smaller, and very odd stories - three very unusual recollections of two longtime Clayton residents.
And next - t

o assist in its logging operations, at one time the Deer Park Lumber Company owned a small fleet of steam locomotives.

The history of three of those engines is outline in an article titled "The Locomotives of the Deer Park Railway Company".
The second most important surviving building in the town of Clayton was finished in 1927.

The Clayton Moose Temple – now Clayton Grange # 456 – has survived a number of reversals of fortune, including its reduction to a burned-out shell at the hands of a teenaged arsonist.

The buildings early years are cataloged in this story drawn from the archives of the Deer Park Union, and deed records from the Stevens County Courthouse.
Charlotte M. Schonfeld graduated from Clayton High School in 1924.

Words and pictures from her class memory book capture a bit of the flavor of a slower, and less self-involved time.
And lastly, a few of the editor's thoughts regarding local artist Leno Prestini, and a recently commenced, region wide project intended to commemorate his life and works.
Volume 4: Copyright 2007 - Clayton/Deer Park Historical Society
---