Copyright 2007 - Clayton/Deer Park Historical Society

Deer Park High School Boxing— 1945 to 1949 --— by Robert A. Clouse & Wally Lee Parker --
— illustration by Robert Brandt --


My name is Robert A. Clouse. My family moved from our homestead near the town of Rock Lake in North Dakota to Spokane in 1941 — and then, in 1944, to a farm 2 ½ miles southwest of Clayton. My dad, Royal Clouse, bought draft horses and milk cows and tried to eke out a living as a farmer. Soon he found he needed a job to support the farm, so went to work at the Clayton brick plant setting brick — stacking unfired brick into the kilns.

Since dad had been trying to find something that suited him since moving to Washington, the "lease with an option to buy" deal on the old Berger farm, along with the chance to be his own boss and farm with horses the way he did back on the old homestead, sold him on the area. All our neighbors, it seemed to me, were common, down to earth people — just like the ones we knew in North Dakota.

My mom, Elva, took care of the home, while me and my brothers started school. Larry, the youngest, attended the local schools for the full twelve years. The oldest, Don, finished his sophomore and junior years at Deer Park, then joined the Army. I attended the eighth grade at Clayton, and went on to graduate from Deer Park High in 1949.

During my first week at Clayton, two of my classmates, Tommy Lewis and Don Steele, took me aside and said they were going to drag me across the railroad tracks and beat the hell out of me. I stared each in the eye and asked, "Do I have to fight you both at once, or just one at a time?" They looked at each other, apparently not prepared for that kind of response, then turned and walked away. So that was that.

Later that year, we'd all become such friends that Don, using his rusty old jackknife, nicked our thumbs — his, Tommy's, and mine — and we pressed them together, pledging ourselves blood brothers.

The three of us graduated out of the eighth grade at Clayton together, moving on as freshmen to Deer Park High School in the autumn of 1945.

Before attending high school, I'd only been in one fist fight in my entire life. So when the school's athletic instructor, coach Glen Click, corralled a bunch of us just before gym class and asked if any would be interested in turning out for boxing, it was a bit of a surprise when my hand flew up. There I was, 97 pounds of skin and bone. To this day, I don't know what possessed me. But I do believe it was the best decision I made in high school.

Don Steele and Tommy Lewis also joined the boxing team.

The coach always seemed easy going — spelling out what we should be doing, but leaving the decision to us. At the start of each season, the coach would begin by stressing the importance of getting into shape. Endurance, speed, and timing — developed by working with the heavy bag, speed bag, medicine ball, and lots of running and muscle building exercises. He always finished by saying, "You don't have to get into shape, but if you don't, you're the one that's going to be taking the beating, not me."

I don't know when he started teaching at Deer Park, or how long he stayed after I graduated. While I was there, he taught 'Health' and coached all the boys' sports. But I think the sport he loved the most was boxing.

Now and then, when somebody got to feeling kind of cocky, the coach would slide on his gloves, crawl into the ring, and we would get to see him in action. With the students, he would only spar, but it was impressive. He was balanced, fast, and polished — a master at the sport — and clearly the one doing the teaching.

There's always a few upperclassmen who stand out. As a beginner, you can only look at them in awe. In the fall of '45, the three that impressed me the most were Johnny Crandall, Ken Fisher, and Paul Inman.

I don't know where Johnny Crandall came from. He was always quiet, and didn't seem to mingle with anyone. But when he crawled in the ring, threw off the robe, and stood squarely in front of his opponent, he looked like a chiseled statue. I can imagine what his opponents were thinking.

He never threw a roundhouse. Every punch was straight and swift — from the shoulder. And not just one punch, but a short jackhammer burst. He annihilated every single opponent I can recall.

Paul Inman and Kenny Fisher were both tougher than nails gentlemen. Both were stand-up fighters and one-two punchers — with a solid shoulder behind every crisp punch. The only real difference, Paul was a right-hander, Kenny a left.

Neither seemed in a particularly benevolent mood when he crawled in the ring, and rarely did a match go to a decision. Usually they put a quick end to their fights with technical knockouts.

Coach Click taught us the rules. The front half of the body from the belt up was fair game, as was the head from the front of the ears forward. Behind the ears was a rabbit punch, and behind the rib cage was a kidney punch. You could have points deducted from your score for either, and if you persisted, you'd be disqualified — which, because it was considered such poor sportsmanship, rarely happened.

I'm not sure that we were actually taught fair play — or even if that's something you can be taught. We were all small town and country kids who had moms and dads and a community setting a good example — so it just came naturally. I recall our Principle, Mister Fitch, wouldn't even allow booing at athletic events. He seemed to feel it just wasn't proper.

We didn't have protective head gear, mouth pieces, or special stuff like that. For school boxers, those came about later.

The referee brought the fighters to the center of the ring, where you were supposed to listen to his instructions. "No hitting below the belt or head butting, and keep your punches clean. Now shake hands and come out fighting."

A bout was three rounds, with 1½ minutes to each round. If a boxer was either knocked out, or unable to adequately defend himself, the fight was stopped and either a knockout or technical knockout declared.

If a fight went to a decision, the scoring was done by the referee and two ringside judges.

All the local boxing was done at the old school gymnasium on the east end of Perrin's Field, just across Crawford Street from the high school. That building also acted as the theater for school plays, and auditorium for all kinds of other school activities — including dances.

The boxing team had a great group of managers, among them Tino Costa, Shorty Daugherty, Bill Tatum, and Alwood Aamodt. Several of these guys would be in our corner at every bout.

My first year was okay. My fighting weight was 97 pounds. I won my first two bouts, but then we traveled to Springdale, where coach matched me against Lonnie Shaw. Shaw was reigning district champ, so I didn't stand a chance. But still, that's when the coach learned I wouldn't back down.

The next school year, 1946-47, proved to be the best Deer Park ever had — the only sad thing for me being that my friend from Clayton, Tommy Lewis, didn't go in for boxing as a sophomore, and ended up dropping out of school a bit later.

As I recall, three things in particular stood out that year. One was my first meeting with Wilbur Templeton — who ended up becoming one of my best friends.

Coach, well aware that he'd lose a couple of his best fighters at the end of the year, wanted to take a look at one eighth grader he'd been hearing about. One day he brought Wilbur to the high school gym and put him in the ring with me. I was fighting at 115 pounds that year.

Wilbur was a nice looking kid — well built. But his boxing style was totally his own. The term I heard used was "snake fighter." He kept his eyes on his opponent's feet, and knew every move the guy was making. He never led — he was strictly a counter-puncher. If I led with a left, he countered. If I threw a left-right combo, he would counter. He never threw a straight punch. Almost all were slaps with stinging speed. I think coach was pleased, and fully intended to do whatever he needed to grab Wilbur for next year's team.

The second thing that stood out for me was that in the early spring of 1947 the Deer Park boxers were going to Pullman for the State Championships. And I was going too.

While the older guys drove themselves, coach hauled the rest of us underclassmen down in his car. I know we didn't talk much — maybe because none of us knew exactly what to expect.

Bohler Gymnasium is on the Washington State University campus at Pullman. All I recall was a big, red brick building that would hold about three thousand people — a few more then we were use to at the Deer Park gym.

It was a three day event. Each of us only had one fight a day — preliminary the first, semi-final the second, and, if you weren't eliminated, finals on the third. As I recall, we got there at suppertime the first evening, and left right after the end of the meet on the third night.

When I crawled through the ropes for my first bout, it looked like a lot more than three thousand people were crammed into that building — crammed to the rafters. You would have thought it would bother me — them all looking down at me while I was fighting. But it didn't.

The referee reminded us that this was a contest governed by rules — quoting those rules like he was tired of saying them over and over so many times in one day.

It seems like the gym lights were on bright up to that point, then dimmed down, when we got ready to fight, till just the one above the ring was left. I'm not actually sure it was like that. Maybe I was just concentrating so hard on the moment that everything else disappeared.

The fight would start, and you knew the crowd was roaring, even though you felt the sound more than heard it. I don't know how to explain that any better.

It was exciting. We were up against the biggest schools in the state, and even a few smaller ones as well, but when you crawled in the ring, it was still one fighter on one fighter. Matched weight to weight, we were on our own — to win, lose, or draw.

The fights were broadcast. I'm sure the folks around Clayton and Deer Park were glued to their radios. My parents said that during one of my bouts the announcer, rattling as fast as he could, said me and my opponent were going at it like a couple of bantie roosters.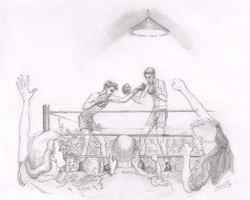 Ken Fisher, John Crandell, and me made it to the final rounds. Ken won the 155 pound weight class, Crandell came out as champion among the 140 pounders, but I lost the 105 pound division. Two championships and a second place. Not bad considering it was a competition between the best boxers in the entire state.

While there, I got the feeling that coach Click was pretty well known — especially when Fred Bohler stopped by to visit with the coach, and look over our team. That was the man the University's gymnasium was named after.

I seem to recall that we didn't talk much on the way home either. I was thinking about the bouts, what I did right, what I did wrong, what I could do better. I was thinking, since I now knew what to expect, I'd be much better prepared for the Washington State Championship next time. But it turned out that the spring of 1947 was the only time Deer Park went. And that's too bad.

It seems it was after the Pullman meet that the Spokane County Championship finals were held at Deer Park. I made a bit of amends there, when I won my division. And that was the third really good thing I recall about that school year..

The 1947-'48 year began on a sour note when Wayne Kinney and Paul Inman decided to not come out for boxing. So even though we still had a good group, it wasn't high enough caliber to go to State.

Coach told me I'd be taking on the best — that meant Bobby Schmit from Cheney, Mel Baker of Mead, and Pringle of Otis Orchards.

I was fighting at 115. That put Schmit and Baker out of my weight class, but Mel Baker's younger brother, Lyle, and I were scheduled to meet on the Baker Boys' home turf at Mead..

I had been sparring with George Hand that afternoon. George had caught me on the nose pretty good, though I didn't think too much about it at the time. But that night, in the first round of my bout with Lyle Baker, Lyle stuck out a good left jab and caved in my nostrils — finishing off what George had started.

When I got to my corner, I told coach Click I couldn't breathe through my nose. He says, "So, breathe through your mouth." Seeing I wasn't going to get any sympathy, I went ahead and won the decision.

At Otis Orchards I was paired against Pringle. It was his home ground and he was doubtless the favorite. At the bell, Pringle charged across the ring — I suspect he figured he was going to finish off the skinny kid from the other side in seconds. Out of the corner of my eye I saw something I'd never seen in one of my bouts before — the entire crowd rose in anticipation. When Pringle got to me he was wide open, so I dropped into a slight crouch and started shooting in straight lefts and rights, working my way up his body till his head was bobbing around like a rubber ball — just the way our coach had taught us. As I fought my way out of the corner, he knew he was in trouble.

I was always a boxer — never a slugger — and I won that fight hands down.

Coach was having trouble matching me with kids in my weight class. Later that year Cheney was hosting the team from Colfax, and our coach arranged a bout for me with one of the Colfax boys — a kid in a much higher weight class.

We drove — my dad, Jim Swinyard, Washington State Patrol officer Elmer Armstrong, and me — to Cheney — where I got beaten.

So far, in my entire Deer Park boxing career, I'd only lost three bouts — one in my freshman year to Springdale's Lonnie Shaw, during my final match at Pullman in my sophomore year, and, as a junior to the Colfax kid at Cheney. Three years with one loss each year. Since I'd had my loss for this year, I was primed for the upcoming Spokane County Championships — and I won! I still have my second Golden Glove pendent to prove it.

My last year, 1948-'49, started out good, but a bout of pneumonia effectively ended it. By time the Spokane County Championships rolled around, I'd lost so much weight I was fighting in a much lower class.

The evening of the match, while I was milking the cows, my dad gave me a bit of advice — which he seldom did. "Now Bobbie," he said, "don't hurt that kid tonight." I replied that before I started taking it easy on my opponent, I needed to find out if I could beat him.

My parents and grandparents came to see my last fight, and it still feels like I let them down. I went out there and felt so weak I could barely lift my gloves.

Four years, four losses. I can hardly remember the fights I won, but the ones I lost I have fought over and over a thousand times. For each of them I keep thinking, all it would have taken was just one good punch and the referee would have stopped the fight.

But our senior year was still a good year. Don Steele had always been fighting in heavier, tougher weight classes. In '49 he finally won a Spokane County Championship.

Don and I were the only boys from the Clayton grade school class of '45 to graduate out of Deer Park High. We sparred quite a bit, but our styles were so different we generally ended up cracking heads. Once he ended up with a lump on his forehead, and me with the best shiner you ever saw.

Wayne Kinney hit me the hardest I was ever hit — sparring or otherwise. He shot a straight right to the center of my chest, and it felt for a moment like my heart stopped.

It seemed that sparring was more dangerous then actual bouts.

Among the underclassmen were the Roll brothers, Fred and Vern. Fred was a relentless slugger. Most of his opponents were scared before getting into the ring. His little brother, Vern, would rather fight than eat. And when it came to fighting, Vern didn't care whether it was in the ring, during lunch hour, or at a dance. He had his brother's style — go into a crouch and sling leather.

Don Gibson was one of the many ardent fans of high school boxing. Whenever he could, he'd end up at ringside. Don was the one who egged Vern Roll into a sparring match with me.

When you spar, you're suppose to hold your punches. But I knew Vern had no intention of holding anything back. He'd made it clear that he wasn't particularly fond of me.

Gibson was sitting ringside, grinning from ear to ear. He knew exactly what was going to happen.

Vern came out mad — and missing his first punch just made him madder. The madder he got, the wilder he got. All I had to do was jab and side-step. Fake him into a corner, and belt him a few times. Back away, then start the boxing lesson over again.

Another frequent ringside spectator was Wilbur Templeton's family — and there were a lot of them. Mrs. Templeton would root for every one of us at the top of her lungs. You don't see the spectators while your fighting, but their being there just seems to help.

It wasn't too many years after I graduated from Deer Park that high school boxing ended in Washington State. I heard that coach Click was killed in a car accident — though I don't know when. The coach had tried to teach us things to help us through life, knowing that for the lessons to take, we'd have to find the truth of them in the ring — by standing up for ourselves, facing our fears alone, and doing the very best we could.

-- end --